Communications Administrator:
Member of the Executive Committee
Reports to Executive Director
Requirement: Have a basic understanding of the Legislative process and how a bill becomes law and how to analyze a bill. Training is available.
The Communications Administrator is assigned an OCL Bluehost email address to preserve record and a security level 5 on the TTV.
Monitors: communications@oregoncitizenslobby.org and Info@OregonCitizensLobby.org
Reply and or direct inquiries and facilitate operations during Legislative session and may use a personal email address that is dedicated to OCL.
Populates and manages OCL Spreadsheets. .
Mail Chimp:
Receive requests from Mail Chimp Website to subscribe and un-subscribe.
Record on spreadsheet.
Creates and posts Action Alerts to OCL Subscribers.
Volunteers: Receive Volunteer forms from the OCL Website
Process the Volunteer forms to separate Advisors / Analysts and Volunteer activities.
Record volunteers on the Volunteer spreadsheet.
Send Volunteer information of Advisor/Analysts to Team Leaders.
Send updated Activities Volunteers to the War Room Coordinator, Volunteers Coordinator, Group Coordinator and the Twitter Brigade Coordinator.

Action Alerts:
Bills that are scored eight and above are analyzed and posted on the OCL website by Team Leaders.
Action Alerts are bills that require an action from Citizens (Public Hearings or a Vote, sent
out on Mail Chimp).
Assist bill cleanup at the end of the session, including peer review and bills left to be analyzed.
Recruit peers to help with analyzing and joining the OCL Team.
Attend scheduled War Rooms whenever possible.
Communications Work Flow Chart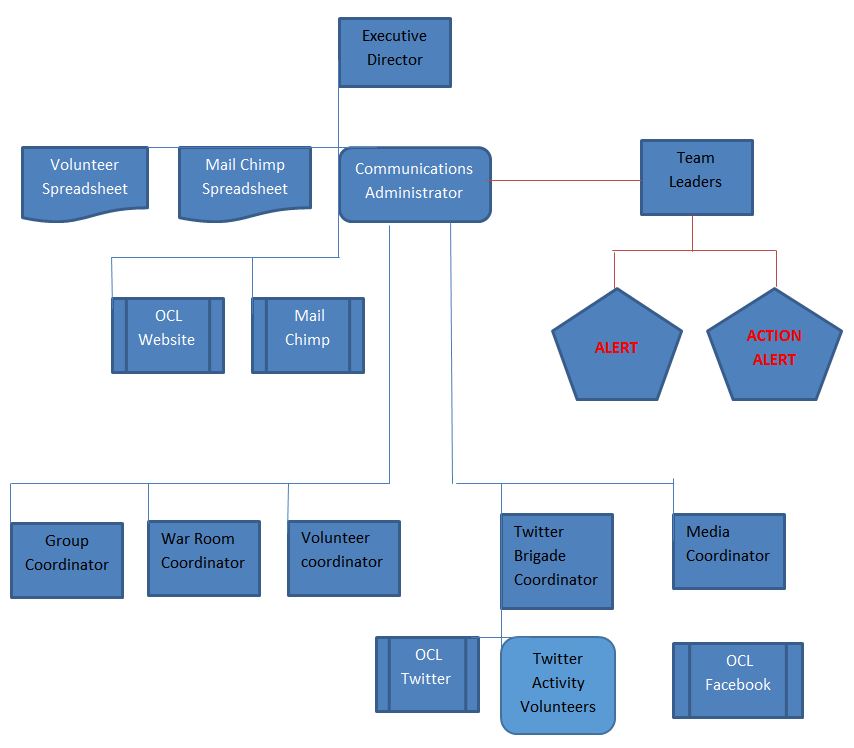 Communications Administrator Operating Procedure
SETUP
Open OCL email address: Check emails and respond as needed.
Open and log into (OCL) OregonCitizenslobby.org
Open (OLIS) Legislative Session
Open and log into (TTV) trackthiervote.org
Open TTV MyToDoList
Peer Review bills and analyze bills – time permitting.
Open Files as needed
Volunteer Spreadsheet For New Volunteers
Mail Chimp Listing for new subscribers and un-subscribe.