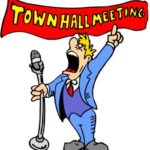 Sen. John Lively (Democrat) HD-11
I will be joined by Senator Beyer (D) and Representative Wilde (D) for a Town Hall on Thursday, Jan. 23 at 6pm in the City Council Chambers at Springfield City Hall. I hope many of you can attend. This will be a great opportunity to hear firsthand about the upcoming session and the differences between the House and the Senate as we approach the proposals.
Following is a brief summary of some of the key legislation expected to be considered during this session:
Oregon Greenhouse Gas Initiative – previously this legislation was referred to as "Cap and Trade", "Green Energy Jobs" and several other names. For this session the measure was drafted by senators and will be considered there first. Many changes have been made since we worked on HB 2020 the last session, but time will tell whether the current version can garner enough support to pass. As the impacts of climate change accelerate, the urgency of the need to address reducing carbon and helping citizens adapt only increase.
Wildfire – In November the Governor's Counsel on Wildfire Response issued a report on actions needed to address the increasing threat of wildfires in Oregon. While we were fortunate during 2019 not to see the number of fires as the previous year, we know it is only a matter of time before we will be at risk for potential catastrophic fires. The recommendations outline actions needed to both diminish the likelihood of the fires and to be better prepared to respond when they occur. The Governor is requesting funds in the short session to start implementing plans. Current estimates are the strategy could cost at least $4 billion over 20 years.
Homelessness/Housing – The homeless crisis is growing in Oregon and the Speaker is recommending action in the short session to declare an emergency and provide funds for more immediate actions. HB4001 has been introduced to start the conversation and define what, if any, additional strategies might help and can be funded this session.
Health Care/Prescription Drugs – Efforts will continue to study the cost of providing health care for all Oregonians, how to maintain and/or reduce current costs and specifically next steps in addressing costs for medications. Legislation relating to studying how to take advantage of lower cost medications from Canada will be considered as another opportunity to help Oregonians with ever increasing costs of medications.
Gun Safety Regulations – Legislation has been introduced regarding requirements around safe gun storage and potential civil penalties for failure to secure any weapons by the owner. In addition, legislation may be introduced to restrict weapons being carried in certain public buildings. Always controversial topics which may not be resolved given the limited time in the short session.
Corporate Activity Tax Adjustments – As we implement the tax to support the Joint Student Success Act it is clear adjustments are needed to address some inequities that were not fully understood when we passed the bill. The key in any of these actions is to ensure the payments will still bring in the estimated additional $1 billion annually to support our K-12 system.
Budget Adjustments/Projections – While some budget adjustments/corrections are necessary to reflect new information, pressure remains to make substantial new investments beyond what we agreed to in the budget adopted in June 2019. Some of those new investments are necessary to address critical ongoing challenges. One challenge is to minimize the funding of additional programs without clear revenue projections to maintain those programs in future biennia. Current budget projections for future years shows a risk of revenues not keeping up with the escalating costs to maintain current service levels.

Quorum requirements

– With the walkouts during the last session and the potential for more this session and beyond, discussions continue around referring a measure to the voters to change the constitution to require a simple majority to conduct business versus the current 2/3's. Given very strong feelings on both sides of this issue, it is not clear what action will take place in the short session with our very limited time to focus on some very complex issues.
Recreational and Medical Marijuana Updates – As the recreational marijuana market matures and hemp growing expands, addressing what remains of the medical marijuana system is a focus this session. Bills have been introduced to implement long-term strategies to protect medical marijuana while ensuring adequate resources are available for system compliance.
Date/Time
Date(s) - 01/23/2020
6:00 pm - 7:30 pm
Location
Springfield City Hall, City Council Chambers
Categories