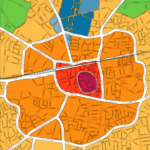 Who will represent you? That is an important question. The answer to that question involves a process that takes place every 10 years called REDISTRICTING. As a citizen, you need to have a say in that process. Hearings to discuss how districts are changed to reflect the changes in our demographics and population start soon. Your engagement in the process may help create a fair non-partisan redrawing of district lines and avoid the potential for Gerrymandering! Please get involved!
The House and Senate Redistricting Committees are meeting concurrently on the evening of March 4, at 5:30 PM. It is invited testimony only and may be of interest to you to listen in. Watch and begin to follow how you can be involved by clicking here.
There will be ten public redistricting hearings beginning March 9 at 5:30 PM. See below the dates and times for hearings to be held in your congressional district. Details on how to participate are also included.
The dates and times below are organized by district. Please look for your county or click here to find out which district you live in.
District : 1
Hearing for Residents of District 1

​​View the Agenda​.  Includes Clatsop, Columbia, parts of Multnomah, Washington, and​ Yamhill counties. ​

3/9/2021 5:30 PM

Hearing for Residents of District 1

View the Agenda​.​  ​​Includes Clatsop, Columbia, parts of Multnomah, Washington, and Yamhill counties ​

3/20/2021 9:00 AM

District : 2
Hearing for Residents of District 2

View the Agenda​​.  Includes Baker, Crook, Deschutes, Gilliam, Grant, Harney, Hood River, Jackson, Jefferson, parts of Josephine, Klamath, Lake, Malheur, Morrow, Sherman, Umatilla, Union, Wallowa, Wasco, and Wheeler counties

3/10/2021 5:30 PM

Hearing for Residents of District 2

​View the Agenda​​.  Includes Baker, Crook, Deschutes, Gilliam, Grant, Harney, Hood River, Jackson, Jefferson, parts of Josephine, Klamath, Lake, Malheur, Morrow, Sherman, Umatilla, Union, Wallowa, Wasco, and Wheeler counties​

3/20/2021 1:00 PM

District : 3
Hearing for Residents of District 3

View the Agenda​

​.  Includes parts of Clackamas and parts of​ Multnomah counties

3/11/2021 5:30 PM

Hearing for Residents of District 3

​View the Agenda​​.  Includes parts of Clackamas and parts of Multnomah counties

4/10/2021 9:00 AM
District : 4
Hearing for Residents of District 4

View the Agenda​​.  ​Includes parts of Benton, Coos, Curry, Douglas, parts of Josephine, Lane, and Linn counties

3/16/2021 5:30 PM

Hearing for Residents of District 4

​​View the Agenda​​.  Includes parts of Benton, Coos, Curry, Douglas, parts of Josephine, Lane, and Linn counties ​

4/10/2021 12:00 PM
District : 5
Hearing for Residents of District 5

​View the Agenda​​.   Includes parts of Benton, parts of Clackamas, Lincoln, Marion, parts of Multnomah, Polk, and Tillamook counties

3/18/2021 5:30 PM

Hearing for Residents of District 5

​View the Agenda​​.  ​Includes parts of Benton, parts of Clackamas, Lincoln, Marion, parts of Multnomah, Polk, and Tillamook counties​

4/10/2021 3:00 PM
Visit the Oregon State Legislature's redistricting webpage,
Date/Time
Date(s) - 04/10/2021
9:00 am - 11:00 am
Categories