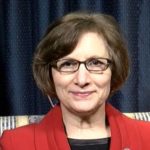 OFIR News; Rep. Suzanne Bonamici (D, CD1) will hold a telephone town hall meeting at 6 pm on September 14th. Please register at https://bonamici.house.gov/live
If you participate, please email Van Esser van@numbersusa.com with a brief description of your interaction and the immigration-related discussions.
This is your chance to take action even if you don't live in her district!  One of the most powerful things any citizen can do for the cause of reducing overall immigration is to visit with their Member of Congress and raise the issue of immigration.
Don't know what to say?  Here's some ideas to inspire you.
Do not use the reconciliation process to change immigration law. I oppose any effort to increase the already historically-high immigration numbers, especially when it is snuck into a must-pass bill without debate. Moreover, such changes fail to qualify as having an effect on revenue or spending under the Byrd Rule.
Biden caused the border crisis & he must fix it! I want you to pressure the Biden administration help to bring the crisis under control by: closing the border to non-essential traffic during pandemic; restarting the Migrant Protection Protocols; returning unaccompanied alien children to their home country; renewing asylum cooperative agreements with Central American countries; and increasing the wait period for work permits for asylum seekers to limit fraud.
You support citizenship for so-called Dreamers but don't care what caused these young people to be in the country illegally in the first place. Their parents brought them while seeking to work here illegally. We'll be in this situation again unless we make it hard for employers to hire unlawful workers. That's why I want you to support mandatory E-Verify workplace eligibility checks for all employers. Don't subject another generation of young people to the same situation.
I am angry that you support the Farm Workforce Modernization Act. Once you give current farmworkers amnesty they will leave agriculture, just like after the 1986 amnesty, so the "legalize to retain knowledgeable workers" rationale is void. The bill also expands the H-2A program to cover dairy, meat processing, and fish canning guestworkers. Bottom line: the measure is a recipe for further stagnating rural economies.
I am angry that you support President Biden's U.S. Citizenship Act of 2021. It is far worse than the 2013 Gang of 8 bill. In addition to its mass amnesty provisions, the bill would expand chain migration, expand the visa lottery, increase employment-based green cards, roll back interior enforcement efforts, and scrap the three and ten year re-entry bans. And it doesn't even contain a fig leaf of immigration enforcement. It would actually make it more difficult for unemployed workers to find work with increased foreign worker competition. Your constituents are struggling so stop throwing us under the bus.
Date/Time
Date(s) - 09/14/2021
6:00 pm
Categories