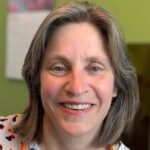 Rep. Lisa Reynolds is a newly elected Democrat legislator for HD-36.  She is a pediatrician and has been assigned to the House Committee on Early Childhood, House Behavioral Health Committee and House Committee on Water.  She'll be having her first virtual town hall via Zoom on Sunday, January 24th at 5:30 pm.
You can register for the event here, and it will also be streamed live on her Facebook page. 
Be sure to attend her town hall and let her know your thoughts on SB-254 which removes the ability of a parent to decline required immunizations against restrictable diseases on behalf of child for reason other that child's indicated medical diagnosis, prohibits child from attending in person specified school-related events, meetings and opportunities, and there's more.
Right now this bill is being considered in the Senate.  If it's passed there, it will go to the House (this is where Rep. Lisa Reynolds is) and she will be asked to vote on it at that time.
You can also let her know your feelings about this bill via email: rep.lisareynolds@oregonlegislature.gov
This information is provided so you can engage the principles of Oregon Citizen's Lobby. We do not endorse any candidate.  OCL is the only Oregon lobby working 100% for and by CITIZENS of Oregon; we are truly the voices of Oregonians, not special interests. Sign-up here to see how you can volunteer right from your own home to help spread the word and enhance the effectiveness of OCL. Want to help but don't have time to volunteer? Help support OCL with a donation of any amount here!
Date/Time
Date(s) - 01/24/2021
5:30 pm - 6:30 pm
Location
!Virtual Online Meeting!
Categories