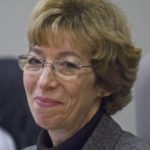 My colleagues and I are hosting a "virtual town hall" Saturday, January 30, 2021 from 2-3:30pm. State Senator James I. Manning Jr. and Representative Julie Fahey will be there with me. I'll mention a few of the bills I will be working on, and we want to hear from you about your priorities.
If you would like to participate, please fill out this form for details and to reserve a spot. If you have a question you would like to have addressed, please submit it in advance via the form.
This information is provided so you can engage the principles of Oregon Citizen's Lobby. We do not endorse any candidate.  OCL is the only Oregon lobby working 100% for and by CITIZENS of Oregon; we are truly the voices of Oregonians, not special interests. Sign-up here to see how you can volunteer right from your own home to help spread the word and enhance the effectiveness of OCL. Want to help but don't have time to volunteer? Help support OCL with a donation of any amount here!
Date/Time
Date(s) - 01/30/2021
2:00 pm - 3:30 pm
Location
!Virtual Online Meeting!
Categories