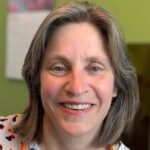 Rep. Reynolds (D, HD-36) will be holding a virtual "Constituent Coffee" on Saturday, June 5th at 10am.  Register here or watch on Facebook Live.
Here's one of the bills she worked hard to pass:
SB 554B
Just a bit of legislative news: as many of you know, as a longtime gun violence prevention advocate, I had the privilege of working with my colleagues to pass SB 554B last month. On Tuesday, my fellow legislators, Moms Demand Action volunteers, and gun violence survivors joined a virtual bill signing to watch Governor Brown officially sign SB 554B into law. This bill will require that guns are locked when not in use, prohibits guns in the state Capitol, and allows schools to ban guns on their premises. It was especially moving to share the zoom room with family members of Cindy Yuille and Steve Forsyth, for whom the safe storage bill was named.
This information is provided so you can engage the principles of Oregon Citizen's Lobby. We do not endorse any candidate.  OCL is the only Oregon lobby working 100% for and by CITIZENS of Oregon; we are truly the voices of Oregonians, not special interests. Sign-up here to see how you can volunteer right from your own home to help spread the word and enhance the effectiveness of OCL. Want to help but don't have time to volunteer? Help support OCL with a donation of any amount here!
Date/Time
Date(s) - 04/16/2021
5:30 pm
Categories