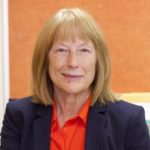 Two upcoming events to discuss Rep. Susan McLain's legislative priorities for 2021. She would like you to join her in talking about the session, schools and business during COVID19, and any other concerns you may have.   Be sure to tell her these lock-downs are killing our businesses, and having irreversible harm to our children; they need to end.

Register for her Saturday, Jan 9th, 11:30 am zoom meeting here.
Her second pre-session town hall will be Monday, Jan 11th at 5:30 pm.  You can register for it on this page.
This information is provided so you can engage the principles of Oregon Citizen's Lobby. We do not endorse any candidate.  OCL is the only Oregon lobby working 100% for and by CITIZENS of Oregon; we are truly the voices of Oregonians, not special interests. Sign-up here to see how you can volunteer right from your own home to help spread the word and enhance the effectiveness of OCL. Want to help but don't have time to volunteer? Help support OCL with a donation of any amount here!
Date/Time
Date(s) - 01/09/2021
11:30 am - 12:30 pm
Location
!Virtual Online Meeting!
Categories