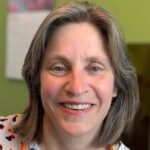 Rep. Reynolds (Dem., HD-36) will be joined by Rep. Ruiz (Dem., HD-50) Sat., April 3, 2021 at 10 am for a joint "Constituent Coffee" via Zoom.  These are two of the Representatives who are sponsoring HB 3294 that would require all schools provide free feminine products to students at taxpayer's expense. Yes even for male students who pretend they are females because the dispensers would be required to be installed in gender neutral restrooms too.  This is being pushed through as an emergency and would be effective July 1, 2021.  Schools would need to provide dispensers in at least two restrooms per school by July 1st, 2021 and in all restrooms by July 1st, 2022.  How about that; if passed, it becomes law on July 1, and that's the deadline for schools to have these dispensers installed, hmmm…
Right now this bill is in the House Committee on Education, they are scheduled to have a work session on this bill April 8, 2021 at 1 pm. You can send in testimony to the committee members by clicking on their names in this list.
Click here to register for the April 3rd zoom session, or watch it on Fabebook Live by clicking here.
This information is provided so you can engage the principles of Oregon Citizen's Lobby. We do not endorse any candidate.  OCL is the only Oregon lobby working 100% for and by CITIZENS of Oregon; we are truly the voices of Oregonians, not special interests. Sign-up here to see how you can volunteer right from your own home to help spread the word and enhance the effectiveness of OCL. Want to help but don't have time to volunteer? Help support OCL with a donation of any amount here!
Date/Time
Date(s) - 04/03/2021
10:00 am - 11:00 am
Categories