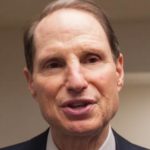 US Sen. Wyden (Dem) will be holding several Town Hall meetings intermittently in northern Oregon, through Jan 20th. See dates, times, and locations below.
January 11, 2023
Linn County @ 1:30 pm
Linn-Benton Community College, Forum Building, F-104
6500 Pacific Blvd, SW Albany
January 12, 2023
Washington County @ 2 pm
Conestoga Rec Center
9985 SW 125th Ave
Beaverton
January 13, 2023
Yamhill County @ 1:00 pm
Chemeketa Community College Yamhill Valley Campus
288 NE Norton Ln
McMinnville
January 14, 2023
Polk County @ 1:00 pm
Western Oregon University's Werner University Center
345 Monmouth Ave.
Monmouth
January 15, 2023
Lane County @ 3:00 pm
Gymnasium Arts and Technology Academy (ATA)
1650 W 22nd Ave.
Eugene
January 17, 2023
Marion County @ 9:00 am
Chemeketa Community College Building 6 Auditorium
4000 Lancaster Dr. NE
Salem
January 18, 2023
Multnomah County @ 9:30 am
Gresham High School Auditorium
1200 N Main Ave
Gresham
January 20, 2023
Clackamas County @ 10:30 am
Oregon City High School Auditorium
19761 S. Beavercreek Rd.
Oregon City
This information is provided so you can engage the principles of Oregon Citizen's Lobby. We do not endorse any candidate. OCL is the only Oregon lobby working 100% for and by CITIZENS of Oregon; we are truly the voices of Oregonians, not special interests. Sign-up here to see how you can volunteer right from your own home to help spread the word and enhance the effectiveness of OCL. Want to help but don't have time to volunteer? Help support OCL with a donation of any amount here!
Date/Time
Date(s) - 01/11/2023 - 01/20/2023
All Day
Categories