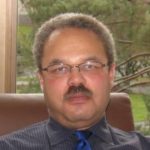 Sen. Lew Frederick (Democrat) SD-22
Due to concerns surrounding the COVID-19 virus, I have decided that it is best for us not to have our usual chat this Saturday as planned. Instead of meeting at Broadway Grill, I will be hosting a digital chat via Facebook live video. We have a lot to discuss, especially including the virus, so I wanted to be sure to share those updates with you and give you the opportunity to ask your questions.
The Facebook live stream will start at 9am this Saturday the 14th with our usual schedule. At that time, if you go to my Facebook page, facebook.com/SenLewFrederick, you will be able to see the video live. I will share my thoughts and you will be able to ask your questions by typing in the comment box. I do wish that we could have had our regular chat as planned but I believe it is in our best interest to not meet as usual and I did not want to cancel this month's chat altogether. I look forward to seeing you all, digitally, this Saturday and I wish you all good health.
Date/Time
Date(s) - 03/14/2020
9:00 am - 10:00 am
Categories