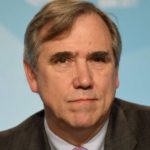 Sen. Jeff Merkley (Dem.) will hold a remote town hall for Umatilla County residents on Wednesday, May 19, 2021 according to a press release.
Merkley will provide updates on his work in Washington, D.C., and take questions and suggestions from participants who can chime into the town hall via computer, mobile device or telephone, the press release said.
The town hall will start at 4 p.m. Attendees can join a Zoom chat through computer, smartphone or tablet, the press release said.
They can also call in to the meeting by dialing 669-254-5252. The meeting ID for the call is 161 984 8513#, the participant ID is # and the passcode is 48529251#, the press release said.
[We are unable to find a link to the zoom meeting, or the original press release which may have had it.  Merkley's website has no current town hall updates on it either]
This information is provided so you can engage the principles of Oregon Citizen's Lobby. We do not endorse any candidate.  OCL is the only Oregon lobby working 100% for and by CITIZENS of Oregon; we are truly the voices of Oregonians, not special interests. Sign-up here to see how you can volunteer right from your own home to help spread the word and enhance the effectiveness of OCL. Want to help but don't have time to volunteer? Help support OCL with a donation of any amount here!
Date/Time
Date(s) - 05/19/2021
4:00 pm
Categories