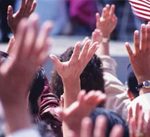 As you all likely know, the legislature is in the middle of their Redistricting Committee public hearings. Oregon Citizens Lobby encourages you all to continue paying attention to the process, including watching (or even testifying at) the final hearings on Monday (9-13) at 1pm and 5:30pm, open for all Oregonians. You can find out all the information about the process and the meetings at https://www.oregonlegislature.gov/redistricting, including the preliminary maps.
Oregon Citizens Lobby encourages all those who are interested to participate by submitting live or written testimony as Oregon undergoes this important decennial process.
On September 20th, the legislature will be having a special session to vote on the maps that come out of the committees as a result of the hearings.
This information is provided so you can engage the principles of Oregon Citizen's Lobby. We do not endorse any candidate.  OCL is the only Oregon lobby working 100% for and by CITIZENS of Oregon; we are truly the voices of Oregonians, not special interests. Sign-up here to see how you can volunteer right from your own home to help spread the word and enhance the effectiveness of OCL. Want to help but don't have time to volunteer? Help support OCL with a donation of any amount here!
Date/Time
Date(s) - 09/20/2021
All Day
Categories