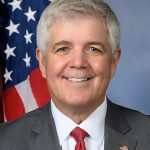 U.S. Rep. Cliff Bentz, R-Ontario, will update Grant County residents of the work he has been doing since voters sent him to Washington, D.C., in November.
Bentz will hold a town hall from 10-11 a.m. Thursday at the Mount Vernon Community Hall, at 640 Ingle St.
The in-person, indoor event format will kick off with brief remarks, and a constituent question and answer session.
The press release notes that Oregon recommends wearing masks in public and indoor settings regardless of vaccination status.
This information is provided so you can engage the principles of Oregon Citizen's Lobby. We do not endorse any candidate.  OCL is the only Oregon lobby working 100% for and by CITIZENS of Oregon; we are truly the voices of Oregonians, not special interests. Sign-up here to see how you can volunteer right from your own home to help spread the word and enhance the effectiveness of OCL. Want to help but don't have time to volunteer? Help support OCL with a donation of any amount here!
Date/Time
Date(s) - 08/12/2021
10:00 am - 11:00 am
Location
Mt. Vernon Community Hall
Categories