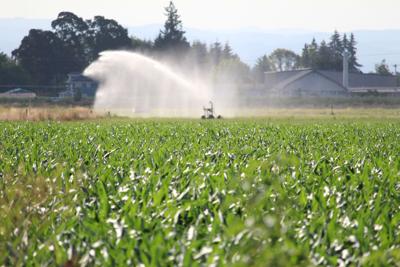 Oregon Democrats' last-ditch effort to guarantee overtime pay for farmworkers could see the state pick up the tab for small farms.
House Bill 2358 is the most recent piece of legislation that would mandate overtime pay for farmworkers after 40 hours in a workweek at one-and-a-half times regular wage. It would include farmworkers who work by piece-rate or hourly. In effect, it would extend the same overtime benefits to farmworkers that have been available to most of the U.S. workforce since the Federal Labor Standards Act of 1938.
If passed, HB 2358 would see Oregon join five other states—Washington, Hawaii, California, New York, Maryland and Minnesota—in having at least partial overtime pay protections for farmworkers. Advocates for the bill, including the immigrant rights group Causa Oregon and activist groups like Farmworker Justice, see it as a step towards closing the racial gaps in farmworker benefits.
The National Agricultural Workers Survey finds individual farmworkers earn $15,000 to $17,499 a year. Families, with an average of five members, are estimated to make between $20,000 and $25,000 a year. 
For people like Kimberely Stephens, that pay can mean watching loved ones like her husband work 300 hours a month, seven days a week at great cost to their health.
"They have no retirement, no health coverage or anything for the years they've sacrificed," Stephens told state lawmakers in April. "So many of these farms are multimillion dollar a year farms, but they would have you believe they can't afford to fairly compensate their employees. They can."
In 2017, Oregon was home to 34,807 small farms or 92% of all farms statewide, according to U.S. Census data. Mark Ward, a potato grower in Baker County, is one of them. He says HB 2358 would be the killing blow to his farm, which sees thin profit margins already.
"We cannot pass this cost on to our customers, we grow under a negotiated preseason contract that will be down 3% this year with costs of production increasing 4%," Ward testified. "We cannot absorb any more financial burdens in the current market environment."
Agricultural heavyweights like the Oregon Farm Bureau, the Oregon Seed Council and the Far West Agribusiness Association agree the bill is a "job killer" that will roll back hours, slash salaries, and hurt staples like hazelnuts and potatoes that set Oregon agriculture apart from its competition.
The bill has treaded water since it was referred to the House Rules Committee in April. However, one amendment requested by state Rep. Andreas Salinas, D-Lake Oswego, may have thrown it a political lifeline. The amendment would pour $100 million out of the state's General Fund to reimburse farm bosses for overtime paid from 2022 through 2024. In addition, willful overtime violations would carry fines of up to $1,000.
Gordy Webster, whose family runs a tree nursery, J. Frank Schmidt & Son Co. in Boring, told state lawmakers HB 2358 would put less money in the pocket of the people who need it most, not more.
Farming operates on a different timetable than other industries, according to Webster, who stresses that unpredictable work hours will always incentivize farmers like him to hire cheaper part-time contractors. In rural Oregon, the minimum wage is $11.50 per hour.
"If this bill is passed, when the weather says work, we will be forced to stop our employees after 40 hours and hire some cheaper contract labor to fill in the void," Webster said. "This will cause our employees the added stress of searching for other part time work to get more hours in the week. We would rather have them work for us and make a good living doing so."
Without bipartisan support, passing HB 2358 will leave House Democrats with little room for error. HB 2358 has days left before state lawmakers head home from Salem for the year on June 28.
Posted at The Center Square on June 18, 2021 by Tim Gruver 
Related:  HB 2358; Overtime for agricultural workers
Date: 2021-06-19 09:42
Related Posts