Two U.S. lawmakers called out local leaders for not doing enough to stop the violence in Portland.
U.S. Reps. Jaime Herrera Beutler, R-Southwest Washington, and John Katko, R-New York, held a joint news conference Thursday to highlight the rising crime in the Portland area.
They say defunding the police is a big part of the problem.
"When you take money away from cops, you can't retrain them. When you take money away from cops, you can't expect them to keep your community safe," said Katko.
Katko and Herrera Beutler met with several law enforcement officers from the Portland-metro area and Southwest Washington on Thursday.
"I've had multiple police officers say to me, I know I've got to hang on for another year and half, because it's so bad. The morale is so bad," said Herrera Beutler.
"Morale is absolutely down right now," said Portland Police Bureau Patrol Officer Krute Aroonsuck. "I would say it's attributed to essentially being underfunded, understaffed and under-supported."'
Herrera Beutler alleges city leaders don't have the officers' backs.
"That's part of the problem, is that it takes two of us who are not directly in Portland coming here and highlight this to get this attention," she said.
U.S. Rep. Earl Blumenauer, D-Oregon, tweeted about Herrera Beutler's visit to Fairview on Thursday.
He tweeted: "If Congresswoman Herrera Beutler wanted to be helpful, she could work within her own district to try and prevent the Proud Boys and other white nationalists who live there from spreading their hate and violence in Oregon and in our U.S. Capitol."
"He and I see differently on this issue. I think when you allow anyone, whether it's white nationalists or antifa, if you allow them to break the rules and break the law, injure people and come after police officers or just a business person or property, you're going to create an environment where that's going to continue," said Herrera Beutler.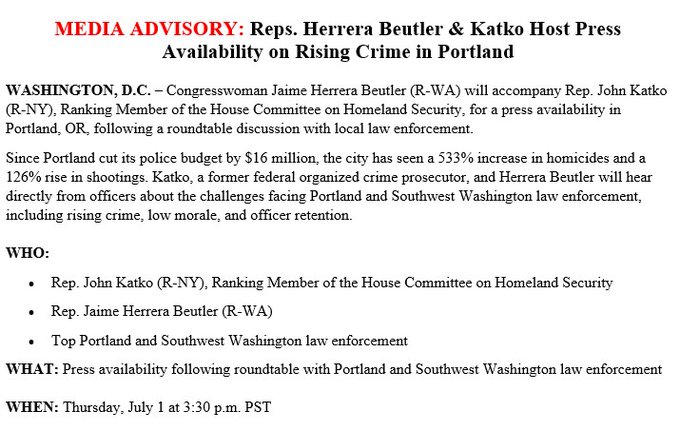 Posted at KPIC4 on 7-1-21 by Katherine Kisiel
Date: 2021-07-02 10:44
Related Posts