Oregon will lift pandemic limits in place for over a year no later than next week, Gov. Kate Brown said Friday.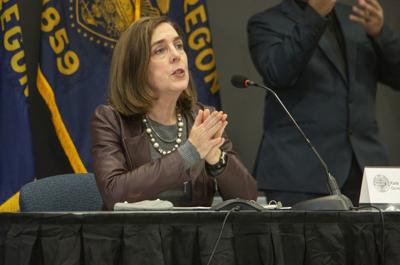 "When Oregon reaches 70% or by Wednesday, June 30, we will lift the safety programs we have relied on and open our economy," Brown said .
When the deadline passes or the goal is met, the county-by-county risk level system will be dissolved.
"Effectively, Oregon is 100% open for business," she said.
Brown had announced last month that mandates on masks, social distancing and capacity limits of restaurants and venues would be lifted as soon as 70% of all eligible adult Oregonians had received at least one shot of COVID-19 vaccine.
As of Friday morning, Oregon was less than 1% short of the target, with 31,264 more first-time shots required to meet the goal.
But with vaccinations slowing to fewer than 3,000 per day and record temperatures across the state expected to slow inoculations even more, Brown decided to add a cut-off date to go with the percentage goal.
To back the plan, Brown revoked five executive orders dealing with COVID-19 restrictions.
Brown said the end of state mandates and the dismantling of the four-tier risk level system would be a welcome change for residents.
But she warned that the health crisis for the state is not over with so many people not able or willing to be vaccinated.
"Some 98% of people dying from COVID-19 are unvaccinated," Brown said.
Oregon Health Authority Director Pat Allen said that with the lifting of restrictions, management of the pandemic response will shift to local governments.
Since Brown announced a state of emergency in March 2020, the governor has been the arbiter of what restrictions would be put in place and where. Many Republicans have criticized Brown for political overreach and damaging the state economy with early forced shutdowns and later often changing limits.
But Brown has pointed to Oregon's relative success in keeping COVID-19 infections and deaths well below nearly all states.
In place of Brown's orders, county commissioners will decide public health actions, and the state will only compile statistics and offer assistance.
"Local officials will be responsible for those decisions and for the consequences," Allen said.
Allen warned that areas with high numbers of unvaccinated residents were "dry tinder" for a blaze of virus outbreaks.
Decisions on schools will also shift to local leaders.
Oregon policy intends to have "full-time, in person instruction," said Colt Gill, director of the Oregon Department of Education.
New guidance to schools will be sent by June 30 and will include summer-school recommendations.
Allen said the June 30 shift is an attempt to handle COVID-19 within the protocols for other health policies.
Health officials are given the maximum amount of responsibility. But it is not a blanket removal of state authority if things go awry.
"Nothing is off the table," he said
Brown said she believed the new system will work and add flexibility instead of a one-way approach across all 36 counties.
But she did not rule out statewide emergency orders if the virus makes a widespread resurgence.
"We obviously don't know what the future holds," she said.
Posted at the Bend Bulletin, by Gary A Warner, on 6-25-21 
The opinions, beliefs and viewpoints expressed by the various news articles posted on this web site do not necessarily reflect the opinions, beliefs,  Five Core Principles  or official policies of Oregon Citizen's Lobby.
Date: 2021-06-26 10:00
Related Posts